Microsoft 3D Viewer
Easily view 3D models and animations in real-time. 3D Viewer lets you view 3D models with lighting controls, inspect model data and visualize different shading modes. In Mixed Reality mode, combine the digital and physical. Push the boundaries of reality
Microsoft 3D Viewer is a 3D object viewer and augmented reality application that was first included in Windows 10 1703. It supports the .fbx, .3mf, .obj, and .stl and many more file formats. Using the View 3D app lets you pan, zoom, and manipulate your view of the 3D model using touch, pen, or your keyboard.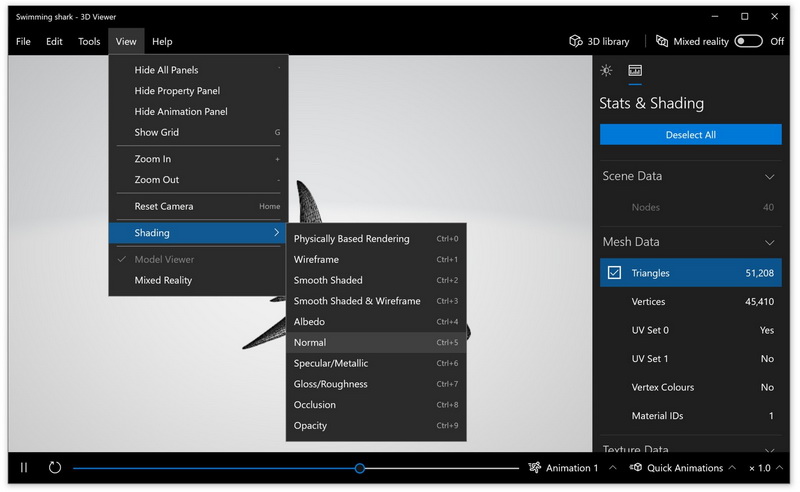 3D Viewer loads a 3d model file and renders an animated bee on a gray background, you can change the viewing angle, select and watch one of the available animations (defined in the 3D file) or adjust either of the 3 light sources. The light setup can be saved as "themes" and applied to other 3D objects quickly. The app also features four "Quick Animations". These are ways in which the app can showcase the 3D object by changing the viewing angle. For example, the "Turntable" item rotates the view point around the object latitudinally. If the device running the app is equipped with a camera, the app can create a mixed reality experience that will allow you to tap on a surface you are viewing, and the 3D model will drop onto that surface. It will then make a rudimentary attempt at SLAM[6] in order to keep the object in place.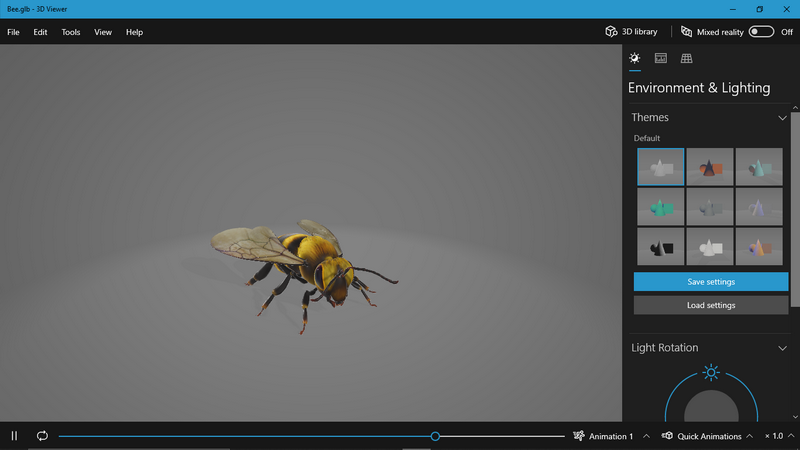 Features
Quickly view common 3D file types: FBX, STL, OBJ, GLB, GLTF, PLY, 3MF, with high-quality staging.

Use simple pan, zoom, and orbiting controls with your mouse, touch, pen or keyboard.

Inspect the 3D model's mesh, texture, material and animation data.

View 3D files in different shading modes such as: smooth, wireframe on smooth, texture passes and more.

Control the position and color of the staging lights.
You can Get 3D Viewer on Microsoft Store.