Realizzer 3D Lighting Simulation Visualiser Software
Realizzer is a real-time 3D lighting visualizer and allows you to create photo realistic designs and instantly view your light show in real-time on your PC. The software has a comprehensive library with many 3D models included such as Truss, Decorations a
Maybe you're looking for an application of 3D simulations in light designing environments. There may have been times where you would like to visualize your lighting environment before attempting to realize it. There are many applications that can do this in two dimensional or three dimensional figures. Two dimensional simulations are mainly used for symmetrical solutions, but to get a whole viewing of your lighting system design it is best to use a 3D software.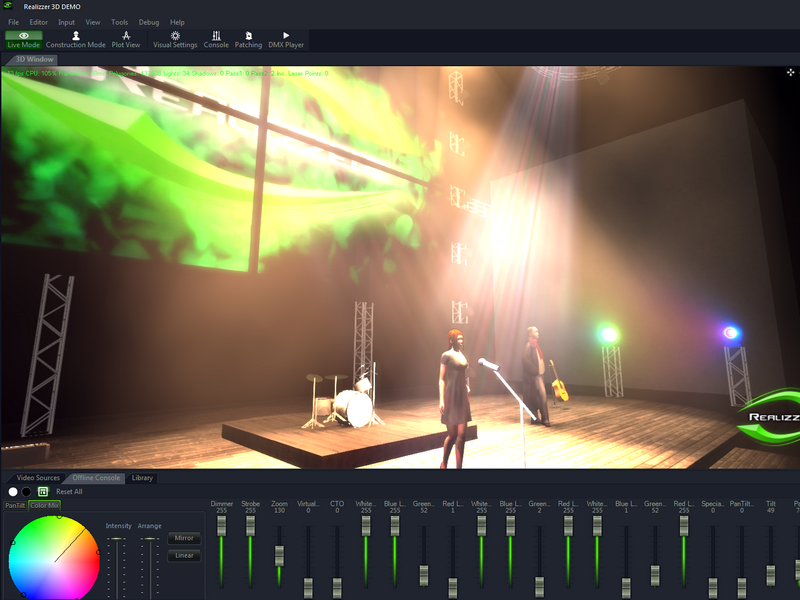 Most 3D visualization software comes with modeling, layout and animation, and rendering features. These features give you a great view of your design as a whole. With this you can have aerial or a 360 degree view of your performances. With modeling, you can form the shape of an object. This object can be placed in the layout and animation process that make up your scene. And with rendering comes the ability to convert a model into an image; ergo, you have a scene.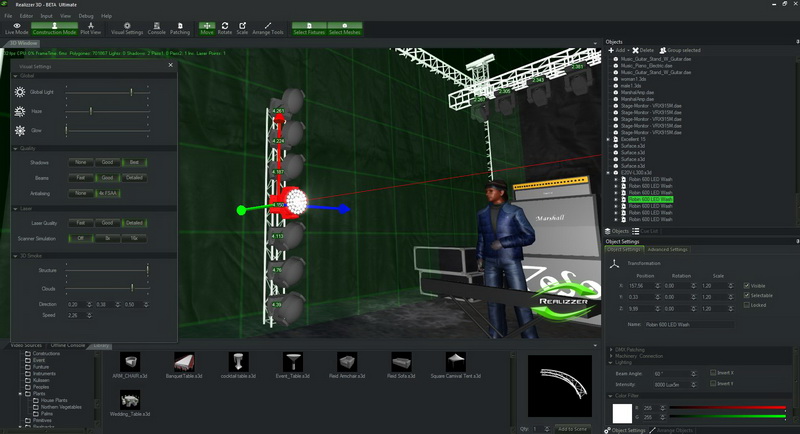 Realizzer 3D allows you to create photo realistic designs and instantly view your light show in real-time on your PC. The software has a comprehensive library with many 3D models included such as Truss, Decorations and Stages etc.. With the Pro, Ultimate and Studio versions you have also the possibility to simulate complete laser and video installations (Lasergraph DSP & Pangolin Support). Also, custom created 3D models can be imported in over 20 formats (OBJ, 3DS, DAE, etc.). Starting with Realizzer Studio you can create highly realistic videos rendered in full HD to present your show designs.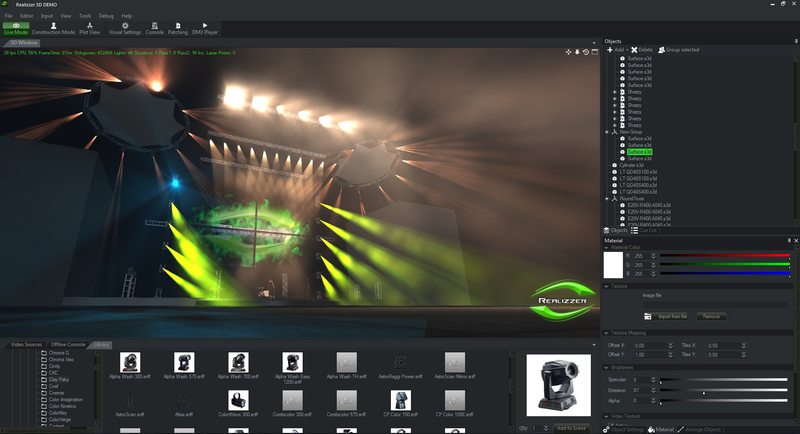 Realizzer is a real-time 3D lighting visualizer and is available in four different editions all coming with different features: Basic, Professional, Ultimate, and Studio.
Features include:
Lighting Simulation: Simulates lighting characteristics such as pan/tilt, gobos, colors, color mixes, zoom, prisms and much more.

Realistic Lasers: With control from Laser Animation Sollinger or Pangolin Beyond, realistic looking laser shows can be viewed and pre-programmed in real-time.

Video Screens & Projections: Produces videos on walls with a video file that can be triggered manually, through DMX, or real-time video input.

Import 3D Models: 3D-Model importer which supports known 3D-Formats such as 3D Studio Max 3DS, Wavefront OBJ, Collada DAE, Blender and many more.

Video Rendering: Create highly realistic videos rendered in full HD to present your show designs, video's can be exported in MP4 H264, WMV, AVI or JPEG Image Sequence and Audio files can be added with just one click.

Library: Over 3,000 Lighting Fixtures and many 3D models and Materials, You can place any object or assign a Material by simply drag&drop into your 3D-World!

Fixture Builder: Powerful Fixture Builder enabling you to create your own Fixture Personality files. Import your own 3D-Models and take the advantage of the Scene graph concept. From a simple PAR through to a complex Multisegment LED Moving Head in just a few clicks.
The simulation can be controlled with any DMX capable lighting control protocol such as ArtNET and SyncroNET or directly by a separate available USB-DMX Interface.

System Requirements
The most important component for Realizzer is always the CPU and graphic card. Realizzer works fine on most known gaming systems.
Minimum
2 GHz Dual Core CPU, 1 GB RAM, DirectX 9 compatible graphic card with 512MB RAM, 1280 x 768 screen resolution, Free USB-Port for License Dongle, Windows Vista, 7, 8, 10
Recommend
Intel i7 CPU 3.5 GHz, 8 GB RAM, Gaming Level Graphics f.e. NVIDIA GTX980 or higher, Full HD Screen, Windows 7/8/10