CD Audio Converter for Windows
EZ CD Audio Converter is the most comprehensive multi format audio converter and is extremely easy to use. Rips audio CDs, converts audio files, allows editing of metadata, and burns discs.
EZ CD Audio Converter is music converter designed to deliver the best quality audio conversions with easy to operate, intuitive user interface.
Easy to use, one of the most comprehensive, highest quality audio file converters. Trusted by home users, audio enthusiasts, professionals, studios, and radio stations worldwide.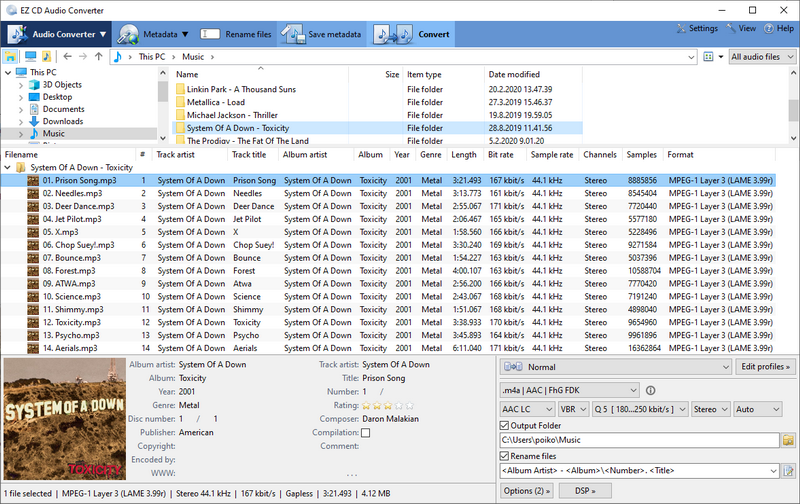 Music Converter | Fully featured audio file converter
Convert audio files to/from MP3, FLAC, M4A, AAC, DSD, Opus, WAV, Apple Lossless, Vorbis and more audio formats. Batch convert audio files freely between all audio formats and keep all the metadata. Edit all metadata prior conversions or get metadata from online metadata services. Boost up the audio file conversion speed on multi-core CPUs by running up to 64 parallel audio converters.
Audio Converter | Optimized for best audio quality
Convert music with the ultra precise (64-bit floating point) audio engine. Audio resampling is performed in highest fidelity with the professional quality sample rate converter. Convert between PCM and DSD formats with the professional quality DSD converter. All audio conversions are bit-exact, gapless and always performed in sample accuracy with the highest quality algorithms.
CD Ripper | Rip audio CDs bit perfect
Securely rip audio CDs with advanced error detection and two-pass CRC verification for the bit perfect digital audio quality. Convert CDs to FLAC, MP3, WAV, AAC, and other audio file formats. Read and preserve CD-Text, ISRCs, UPC/EAN, and pre-gap information. De-emphasize audio CDs that have pre-emphasis. CD ripping log records all the CD information and exact status of the CD extractor.
Convert audio files to
FLAC (.flac), MP3 (MPEG Layer-3, LAME MP3, .mp3), AAC (Apple AAC, FhG FDK AAC, .aac .m4a .m4b), HE AAC (Apple AAC, FhG FDK AAC, .aac .m4a .m4b), CD-DA (Audio CD .cda), AC-3 (AC3 .ac3), Apple Lossless (ALAC .m4a), Opus (.opus), DSD (Digital Stream Digital, .dff .dsf .wv), DFF (DSDIFF, .dff), DSF (DSD Stream File, .dsf), DXD, PCM, WAV (Wave, RIFF, RF64 .wav), AU (AU/SND .au), AIFF (.aiff), Ogg Vorbis (.ogg), Monkey's Audio (.ape), Windows Media Audio (.wma), WavPack (.wv), WavPack DSD (.wv), Wave64 (.w64), Musepack (.mpc), True Audio (.tta)
Convert audio files from
FLAC (.flac), MP3 (MPEG Layer-3, .mp3) CD-DA (Audio CD .cda) AAC (.aac .m4a .3g2 .3ga .3gp .m4b .mp4), HE AAC (.aac .m4a .3g2 .3ga .3gp .m4b .mp4), Opus (.opus .ogg), Wave RIFF RF64 (.wav), DSD (.dsf .dff .wv), Super Audio CD ISO (SACD ISO .iso), Apple Lossless (ALAC .m4a), MP2 (MPEG Layer-2 .mp2), MP1, (MPEG Layer-1 .mp1), Monkey's Audio (.ape), AC-3 (AC3 .ac3), DTS (.dts .dtshd), TrueHD (.thd .truehd), Atmos, Windows Media Audio (.wma .asf .wmv), Vorbis (.ogg), WavPack (.wv), Musepack (.mpc), True Audio (.tta), Adaptive Multi-Rate NB+WB (.amr), AIFF (.aif .aiff), AU (.au), .avi, .caf, .cue, .divx, .dv, .eac3, .flv, .m2ts, .m3u, .m3u8, .mka, .mkv, .mov, .mpeg, .mpg, .oma, .omg, Real Audio (.ra .ram .rm), Shorten (.shn), Speex (.spx), TAK (.tak), .vob, Wave64 (.w64), .webm
Free Download EZ CD Audio Converter 9.1.3 for Windows 10 / 8 / 7